Follow
"Spirit on the Road"
in our blogs!
_______________

"In Spirit's Time"

"Inspired by Spirit"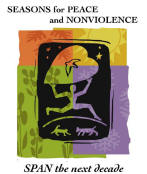 Affirmative Prayer

Five Steps of Prayer Seven Steps of Prayer

What it is.

Also called Spiritual Mind Treatment, Affirmative Prayer is a definite form of prayer to bring about in consciousness the idea of what you desire to bring into your life, and allowing, by your focus, attention, passion and belief, for this to unfold by your supporting the result.

How it works.

When I said "definite" form of prayer, I mean that the steps of prayer are definite in that they form the unity between yourself and God, yourself and Spirit, and by recognizing that unity, you allow the good you desire to unfold in your experience by your relationship to the Divine within you.

What it does.

Affirmative prayer can change your life. It allows you to realize that there is a power in you that you can use. This power is a power for good. and available to everyone all the time.

The basics of Spiritual Mind Treatment
This PDF download offers the 7 steps of treatment, along with examples of treatment in outline form.
It is a help sheet.
Right click and choose "Save File As" or "Save Link As"